IACIS would like to show our appreciation to you as one of our dedicated volunteers who are responsible for making this organization what it is today.  In addition to waiving the annual membership dues for volunteers, we want also to offer you the opportunity to participate in one of our online training and certification programs.
You can select ONE of our two online programs:
Windows Forensic Examiner (WFE) and the Certified Advanced Windows Forensic Examiner (CAWFE) certification.
Mobile Device Forensics (MDF) and the IACIS Certified Mobile Device Examiner (ICMDE) certification.
"The CAWFE certification process has now closed.  The WFE training is still available, but this will not include the certification process"
These programs will be open for the 4-month period of September 1st through to December 31st.
Both the training and certification portions of the program need to be fully completed during this period.  There will be no extensions or changes to the program dates.
If you select the WFE and associated CAWFE program, there is a November 30th deadline to complete the first part (written examination) of the CAWFE certification process.
If this initiative is successful, we will offer the programs again in 2023. Continued volunteerism will allow you to participate in the other program next year (or retake the same program if required).
Registration process
You will receive an email message on about September 1st containing the voucher codes for the two classes.
To register for the online process, just click (or copy and paste into your web browser) the voucher code for the program that you wish to enter.  Select only one of the two available options.  These voucher codes are personalized specifically to you and are not to be shared or gifted to others.
Redeeming your voucher code link will update your profile in our database.  This is where you will be able to download your certification certificate if you successfully complete the process.
Your link will take you to a page that looks like this: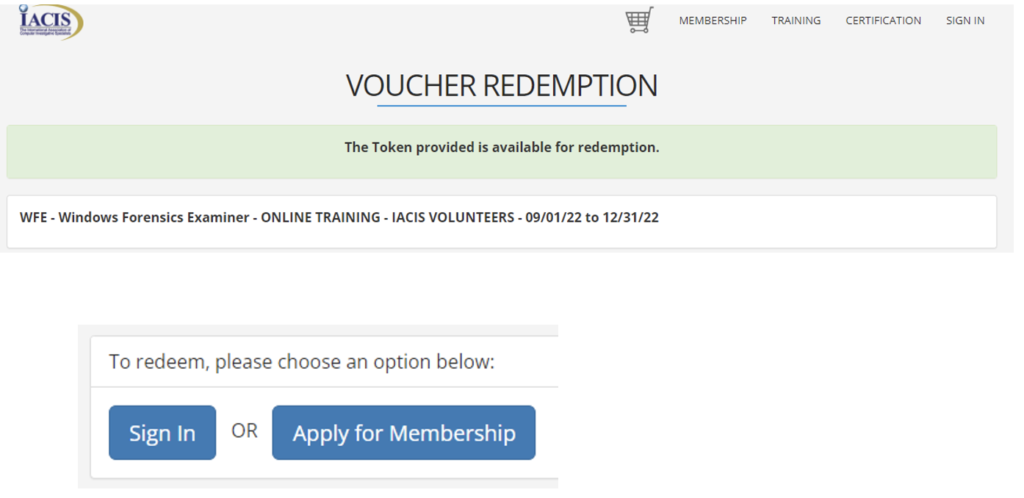 Select "Sign In "and login with your IACIS credentials. If you do not know your sign-in, please follow self-service account login retrieval prompts or contact webadmin@iacis.com for assistance.
You will then be able to redeem your voucher.  This process will update your details in our system.  You can then proceed to the Moodle registration.
Moodle Registration for Training Process
The online training content is hosted on a Moodle platform and requires a separate registration process to be completed.
You will be self-enrolling in the class. Please read and follow all the instructions below to get started:
Go to iacis.mrooms.net. This will bring you to the login page.

Click "Create new account" and fill in the information. Use your IACIS email 

and your name as it appears in your email (first.last) for your username, as this is how we will match up the credit hours to your IACIS account. Choose a password and enter your first and last name in the appropriate fields. You don't have to enter your city/town or country. (If you have taken a previous online class you don't have to create a new account, instead log in using your previously created credentials).

Click "Create my new account". You will receive an automatically generated email from "Admin User (via IACIS Training)" asking you to confirm your account. Confirm your account using the link provided in that email.

You will be able to log in using your credentials now. Once you log in, scroll down the page until you see "Available Courses". Choose the class that you registered for:
"MDF2022VOL" and enter the enrollment key MDF2022VOL
"WFE2022VOL" and enter the enrollment key WFE2022VOL 
Do not share the key with others. It will only be valid for the class cycle of September 1 – December 31, 2022.
Once you enroll, you will be able to see all of the contents of the course. Do not download the videos, and do not share them with others. You are encouraged to download the content from the "Manual" tab and "Resources" tab, which includes image files, practicals, and software.  Any sharing or unauthorized distribution will be grounds for revocation of IACIS membership as 

well as failure of the training.

Content will be hidden from your view until September 1, when the cycle begins. Content will be hidden again after December 31. After that day, you will no longer have access to any of the content. If you have completed all of the activities

for the course (viewing the videos and certifying that you watched them), you will be awarded the credit for the class and may be eligible to take the certification test.

If you are attempting the certification process, you are eligible to take it after completing the training portion.
If you have any problems or questions that arise during the training enrollment, please contact the course administrator at onlinetraininghelp@iacis.com.
IACIS Ethics Policy Reminder: Any sharing or unauthorized distribution of the course key OR videos/materials will be grounds for revocation of IACIS membership and failure of the training. Only those who register for the training using
their IACIS email address will be eligible to earn continuing education credits. You are expected to watch all the videos to earn credit for the training.
Moodle Registration for the Certification Process
Once you complete the training portion of the program you will be ready to move onto the Certification process.
Select the "Log in using your account on IACIS"

Select the "2022 Certification Courses"

Select your CAWFE or ICMDE certification option.

Questions
If you have any questions or encounter any problems, please contact Brent Whale at vicepresident@iacis.com.
I would like to thank you again for your contribution to IACIS by sharing your skills, expertise, and time to our organization.  I wish you all the best with the online training and certification process.
Brent Whale, CFCE, CAWFE, ICMDE
IACIS Vice President