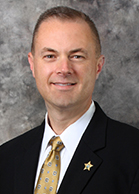 Dan is a Captain with the Seminole County Sheriff's Office in the Central Florida area.  Dan's career in law enforcement began in 1995, and he has served in a number of assignments of which most have been investigative and leadership roles.  Dan currently leads the Diversified Investigative Services Division, which is comprised of the Major Crimes Unit, City County Auto Theft Bureau, Seminole Financial Crimes Task Force, Domestic Violence Unit, Elder Crimes Unit, Digital Forensics Unit, Technical Support Unit, and Victim Services Unit.  Since 2000, Dan developed and led the computer/digital forensics program at the Seminole County Sheriff's Office, which has been recognized by numerous organizations worldwide.  He is an active member of several law enforcement task force programs including the United States Secret Service Electronic Crimes Task Force in Orlando, FL.
Dan holds a Master's of Science in Digital Forensics (MSDF) degree from University of Central Florida along with a Graduate Certificate in Computer Forensics.  In 2013, Dan graduated from the 254th Session of the FBI National Academy with a Graduate Certificate in Criminal Justice Education.  The FBI National Academy is regarded as the most prestigious  law enforcement executive leadership training in the world.  Dan is also an adjunct professor at the University of Central Florida where he instructs the Operating System and File System Forensics course.  Dan holds the following professional certifications in the field of digital forensics:  CFCE, CEECS, EnCE, ACE, and DFCP.
Dan has been a member of IACIS since 2000.  Dan has been very active with the Certification Committee since 2001.  In this capacity, he has been a coach, regional manager, division administrator, CFCE Chairman, and the Director of Certification.  Dan led IACIS through the rigorous process of achieving accreditation as a certifying body through the Forensic Specialties Accreditation Board (FSAB).  IACIS is one of the first computer/digital forensics organizations in the world to achieve this esteemed designation.  The IACIS flagship certification, the Certified Forensic Computer Examiner (CFCE), is the de facto standard in modern computer/digital forensic certifications.
Dan has served on the Training Committee as a course developer, group leader, and instructor.  In addition to IACIS, Dan has instructed thousands of practitioners in the field of computer/digital forensics for over a decade, both within and outside of the United States.  He is a contract instructor at the Federal Law Enforcement Training Center in Glynco, GA.  Dan has been on the Board of Directors since 2009 and has served as the Director of Certification, Vice President, and currently as the Chairman of the Board.  Dan strives to lead IACIS to be the premier organization of choice for the digital forensics community by providing law enforcement focused membership services, training, and certification.