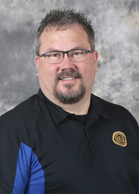 Special Agent Anderson started in public safety in 1989 as a 9-1-1 dispatcher in Klamath County. In 1990 he became a reserve Police Officer for the Klamath Falls Police Department and was hired by them as a full time officer in 1994. Mike spent the first few years assigned to the Patrol Division, before being assigned to Detectives in 1998. He was initially assigned investigation into white-collar crimes and arsons.
In 2002, after being tasked with administering the department's computer network and records management system, he began his interest in computer forensics. In 2004 he attended the International Association of Computer Investigative Specialist (IACIS) basic forensic conference and at the conclusion of the training and testing, he received his certification as a Certified Forensic Computer Examiner (CFCE).
In 2013, SA Anderson was hired by the Central Point Police Department, where he was assigned to the Southern Oregon High Tech Crime Task Force. He was assigned as the operations manager, handling the day-to-day operations of the task force.
In 2015, SA Anderson was hired by the Oregon Department of Justice, Criminal Division, and was assigned to the Internet Crimes Against Children (ICAC) Task Force.
During his career, SA Anderson has been assigned to the Klamath County Major Crime Team, Klamath Falls Interagency SWAT Team, Klamath County Incident Management Team (Type III), Oregon State Fire Marshall's Office Incident Management Team (Type II), and the Region Five Training Council. SA Anderson has also been a firearms instructor, Taser instructor, and is currently the Training Manager for the IACIS Basic Certification program.
…and people like me.