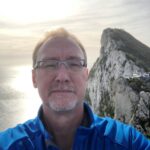 IACIS history
Joined IACIS in 1993 and attended the basic course in Portland OR that year.  I obtained my DPC (DOS Processing Certification, now called CFCE) in 1994.
I was a staff member in the 1995 training event and was elected to the board of directors in 1996, during which time I worked on marketing, recertification, training, vice-president and chairman of the board.  I took a break from the board in 2004 and did committee work in specialized training and ethics. I returned to the board in 2012 and worked there until 2019. The last few years I have served on QA, Ethics, Budget and Audit committees, assisted in training at US and EU events.
LE history
I worked for the Iowa Division of Criminal Investigation Crime Lab starting in 1989.  I was a drug chemist, then serology/DNA expert and started the computer forensic unit in 1993.  I left IA DCI in 2002 to work as the director of forensics for Digital Intelligence.  In 2018, I began teaching at college/university level full-time and continue that now.
IACIS comments
IACIS provided my start in the digital forensic field.  So many people volunteered their time and expertise to help me along the way.  I feel that I owe it those early pioneers and can back it back by volunteering my time.  So, many things have changed in the field in the past 30 years, but the volunteer spirit is still strong in the organization and I hope it will always be that way.
Where are you now?
I am living and working in Iowa and remotely (adjunct for a school in Florida, and yes I know it should be the other way around 😉  I am married (36 years) with three grown children, and two grand-children.