SUMURI Hex Viewer is a Windows-based hex editor software application.  It was purpose built for teaching disk structures and file systems in IACIS classes. It is freely available to all IACIS members.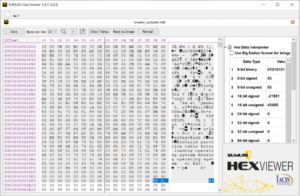 Features 
The SUMURI Hex Viewer offers all the features needed when learning disk level forensics. Features include: 
Opening any file including forensic image files and physical disks 

 

Support for several forensic image formats including DD, E01 and VHD 

 

Navigating through loaded data by jumping to absolute or relative offsets in bytes or multiples of bytes (such as sectors or clusters) 

 

Highlighting strings of bytes in a hexadecimal view and interpreting the selected data as 8/16/24/32/64 bit signed or unsigned integers, DOS/Unix/Windows/Mac dates and times, and GUID values

 

Tagging strings of bytes in a hexadecimal view by applying a custom background colour and a descriptive label

 

Built-in highlighting templates for popular disk structures and filesystems including MBR, GPT, FAT, NTFS and ExFAT

 

Support for user-created custom templates 

 




Background
The SUMURI Hex Viewer was developed in response to a challenge faced by the IACIS training committee.  Training required an affordable Hex Editor to provide to students in the Basic Computer Forensic Examiner (BCFE) class, to be used to learn about disk structures and file systems and what goes on under the hood.  SUMURI graciously volunteered their skills and expertise in software development and worked closely with the training committee through many iterations to build the SUMURI Hex Viewer software application.This software made its debut in the BCFE classroom at the 2022 Training Event in Orlando, Florida, USA.  It was well received and a great success and as such it is now a mainstay of IACIS training and a critical piece of the learning experience.
This project highlights again that SUMURI is a wonderful supporter of IACIS and its mission.

Download
SUMURI Hex Viewer is available to all IACIS members.  To use the download link below, please ensure that you are logged into your IACIS member profile.  
There is also an instructional video which has been created to demonstrate many of the product features.  Thank you to IACIS Training Committee member and Instructor Zachary Neemann for his commitment to the SUMURI Hex Viewer product and for putting together the instructional video.