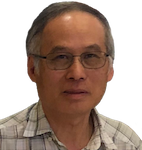 IACIS history
A founding member of IACIS, served on the Board of Directors (1990 – mid 90's), participated in software development, Training and Coaching.
LE history
Forensic Investigator in Criminal Investigations Division of Canada Revenue Agency.
IACIS comments
It is very gratifying to see that the Association has grown into a truly international organization from its humble beginning started with just US and Canadian LE members.  Many thanks to the hard work and dedication of all the members and volunteers, past and present.
Where are you now
Retired in 2014 and living with my wife on the beautiful west coast of Canada.   We have been travelling with family extensively.