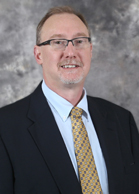 Doug Elrick worked for the Iowa Division of Criminal Investigation Criminalistics Laboratory from 1989 to 2002. Trained as a biochemist and former medical researcher with the Mayo Clinic, Elrick began as a drug chemist and serologist. In 1992, Elrick was tasked with working a case involving a 5 ¼ floppy associated with a kidnapping/sexual assault of a 9 year old. In 2002, Elrick left the IA DCI and joined Digital Intelligence, Inc. in Wisconsin as Director of Forensic Services. He now conducts forensic examinations and electronic discovery work for private and civil matters around the world. Elrick also instructs forensic classes for Digital Intelligence and opened a DI office back in Iowa in 2011.
Elrick attended the 1993 IACIS training in Portland, OR and served on staff in 1995. He was elected to the Board of Directors in 1996 and served until 2004. During his term he served as Vice President, Director of Training, Director of Marketing, and Chairman of the Board. After stepping down from the Board Elrick continued his involvement in IACIS by serving in the following capacities; Chairman of the Recertification Committee, Chairman of Advanced Training, Chairman of Ethics Committee, and Chairman of Germany Training. Elrick assisted in the development and instruction of the WFE training course and Elrick was also a beta tester for the CAWFE certification and its first recipient.
Elrick was appointed to the board again in December of 2012 to fill a vacancy.