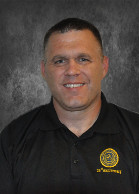 Mark Baker is currently a criminal investigator for Northern York County Regional Police Department in Dover Pennsylvania. The department covers eight municipalities, approximately 176 square miles and approximately 80,000 people. He is currently the only examiner doing digital forensics for the jurisdiction and have been doing so since 2008. Mark also serves as a Task Force Officer with the Federal Bureau of Investigation assigned to the Harrisburg Child Exploitation Task Force and prior to his employment in Dover Pennsylvania, Mark was a police officer for the City of Philadelphia working in high crime areas. ​
Mark completed the Basic Computer Forensic Examiner (BCFE) class in 2008 and obtained his CFCE in 2009. Since then, he has recertified twice in 2012 and 2015. In addition to the completion of numerous classes through the National White Collar Crime Commission, Mark has taken classes with SANS and other vender specific training. He has held positions within IACIS to include BCFE instructor, ACF Chairman, Unified Practical Chairman and Peer Review Coach.
Since completing the Basic Computer Forensic Examiner (BCFE) class in 2008, Mark has examined numerous types of digital evidence from computers to cell phones. The investigations have ranged from homicides to harassment and each had varying degrees of complexity. ​​