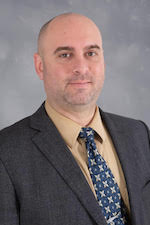 Todd Bignucolo is a police officer with the Greater Sudbury Police Service in Sudbury, Ontario, Canada. In 2008, Todd attended the BCFE course in Florida, obtaining his CFCE in 2009.  
From 2009 to 2019, Todd was active in the CFCE Peer Review phase, holding the positions of Coach, Regional Manager, and Division Administrator. In 2016, Todd became part of the training staff at the BCFE conference. Also in 2016, he earned his ICMDE certification. In 2019, Todd took on the role of CFCE Certification Chairman until he was elected to the Board of Directors in 2020. 
Todd has also been a member of the High Technology Crime Investigation Association (HTCIA) and Ontario's Provincial Strategy to Protect Children from Sexual Abuse and Exploitation on the Internet.