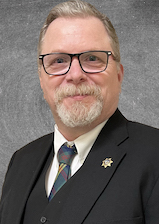 William Oettinger is a highly accomplished expert witness and subject matter expert with extensive experience in cybersecurity and computer forensics. He has been a member of IACIS since 2006 and earned his Certified Forensic Computer Examiner (CFCE) certification in 2007 and has been a Peer Review coach since then. Bill retired from the Las Vegas Metropolitan Police Department in 2014 after serving over 20 years and from the United States Marine Corps as a CID Agent (Reserve) in 2015. He is also an accomplished author, having published "Learn Computer Forensics" with Packt Publishing. 
In addition to his law enforcement experience, Bill teaches graduate-level cybersecurity courses at the University of Maryland Global Campus and Yeshiva University. He has instructed cybersecurity and forensic courses to law enforcement examiners across the globe, including in the United States, Mexico, Jamaica, and Morocco. He has worked with organizations such as the Royal Police Force of Antigua and Barbuda, La Direction Générale de la Sûreté Nationale of the Kingdom of Morocco, Moroccan Royal Gendarmerie, and the Ministry of the Interior of the Kingdom of Bahrain. 
Bill holds a Certificate in Computer Forensics from Marshall University, a Bachelor of Science in Criminal Justice from Columbia Southern University, and a Master of Science in Criminal Justice – Homeland Security from Tiffin University. In addition, he has earned several industry certifications, including the IACIS Certified Forensic Computer Examiner (CFCE), SUMURI Certified Forensic Mac Examiner (CFME), EnCase Certified Examiner (EnCE), CompTIA Security+ and Net+, Certified Information Systems Security Professional (CISSP®), EC-Council Computer Hacking Forensic Investigator (CHFI), and a Certified BlackLight Examiner.