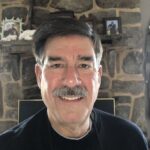 Bob started the computer forensic unit for the Loudoun Sheriff's Office in the fall of 1996 and first attended IACIS in May of 1997.  He earned his DPC certification in June of that year, and was very privileged to be asked to return to IACIS the following year as a coach and instructor.  He earned his CFCE certification in May of 1998 and served in many capacities over the years including 3 terms on the Board of Directors.
Volunteering and being involved with IACIS over the many years were tremendously rewarding experiences that allowed him to give back to an organization that had provided him with incredible training and support.
The annual conferences were wonderful times, filled with terrific individuals from all around the world.  It was truly great being able to assist those in attendance grow in the field, just as the organization had done for Bob years earlier.   Many of the friendships that grew from conferences are still cherished today, as are the memories from those hectic weeks in the spring.  We always worked hard to ensure that the attendees enjoyed a truly world-class training environment; the long hours of preparation and setup were always worth the effort when you stood in the back and watched the conference unfold.
In the early spring of 2001, Bob retired from Loudoun County to accept a position with Guidance Software (EnCase) as the Director of Professional Development and Training, and opened their east coast training office in northern VA. 
Bob retired from Guidance software in the fall of 2016, and now enjoys his time up at their farm in Pennsylvania as well as in his woodworking shop down at their home outside of Boonsboro MD.  The best times however are spending time with his two grandsons !!