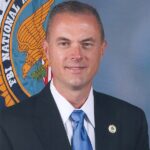 IACIS history
I joined IACIS in 2000 when I attended the BCFE when it was held at the Hilton Hotel in Altamonte Springs, FL. Later that year, I earned the CFCE when it was based in DOS and Windows 95/98.  I became a certification coach later that year and trainer for the BCFE in 2001.  Since that time, I have served as a certification regional manager, certification division administrator, and CFCE Chairman.  I also served as a course developer and trainer for several years.  In 2009, I was elected to the Board of Directors and served in various roles to include Director of Certification, Vice President, and Chairman of the Board.  One of the major initiatives that I led with our team was IACIS becoming an accredited certifying body. Since then, accreditation has been one of the cornerstones of IACIS certification programs, and I am glad to see this legacy continue.
LE history
I began my full-time career with the Seminole County Sheriff's Office in 1995 as a deputy sheriff. I worked various patrol, investigative, and specialized/collateral assignments through the years, including digital forensics, and later, I was promoted to sergeant in 2002, lieutenant in 2010, captain in 2011, and chief in 2017.  I currently serve as the Chief of the Department of Law Enforcement in the Executive Office of Sheriff.  I'm a graduate of the FBI National Academy (254th Session), and currently, I serve as the Treasurer for the FBI National Academy Associates, Florida Chapter. As of this writing (December of 2022), I am in my 28th year of law enforcement service.
IACIS comments
IACIS is a very unique organization from many others in the world and in our profession.  IACIS is member-driven and volunteer-driven, and historically, the mission is focused on fulfilling the need to impartial and unbiased training in the field of digital forensics.  Equally, certifications beyond the CFCE have prospered as a result of the IACIS culture and mission in our profession.  What makes IACIS unique are the people who serve and grow our discipline and profession.  There are relationships and bonds formed within IACIS that are unique to our organization, and this stems from a culture of servant leadership that started in 1990 when our founders created IACIS.  Since then, generations of leaders and volunteers have remained true to our values and led IACIS to modernize while not losing sight of our roots and vision to train, certify, and serve members.  I am proud to be a lifetime member of IACIS, and more importantly, I am grateful for the relationships that I have with so many members for well over two decades.  I could not be more proud of IACIS, our leaders, and volunteers.  I served as a volunteer in various capacities for 15 years with IACIS, and they were some of the most formative and fulfilling times in my career.  My advice for new or existing members is to volunteer.  The sense of fulfillment and growth that you will receive and give is beyond measure.
Where are you now?
I am currently in my 28th year of law enforcement service and enjoying life with my family.  I still remain active with IACIS by attending annual training and remaining connected with members.  These days, my volunteerism now extends to other non-profit boards, including the FBI National Academy Associates.  In my spare time, I enjoy spending time with family, saltwater fishing, boating, drumming, and watching sports.