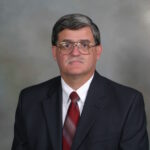 Edwin Moore has been a deputy for 49 years with the Livingston County Sheriff Department, Howell, Michigan, USA. He was a detective for 26 years with the last five years working computer related crimes where he started a computer crime unit within the sheriff department and served on the Michigan ICAC (Internet Crimes Against Children) unit.
He retired from full time service in 2006 but remains part time and deputized as a certified sworn officer with the Sheriff Department for computer related crimes, computer forensics and working cold case homicides. He also serves as a Medical Examiner Investigator for Livingston County and has achieved his certification as a Diplomate status with the American Board of Medicolegal Death Investigators (ABMDI).
He worked for 3 years in the private sector as a computer forensic examiner conducting examinations for civil cases.