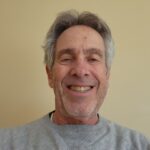 I graduated from Fairleigh Dickinson University in New Jersey in 1973 and worked in securities regulation in New York City for four years. My love of Big Sky Country brought me to Montana in 1977, where I developed and ran the state's first securities law enforcement unit. My worked centered on investment fraud and related white-collar crimes. After 18 years, I moved to the Montana Division of Criminal Investigation (DCI) and set up and led the state's first Medicaid Fraud Control Unit (MCFU), which investigated and prosecuted Medicaid Fraud and patient abuse cases. I developed a love for all things digital and recognized how valuable computers could be in a wide variety of criminal and civil investigations, so I devoted my free time to learning everything I could about computers. Soon, I became the informal tech support guy for DCI.
After serving six years as the MCFU's Supervising Agent, management recognized that a one-person, informal computer crime "unit" was destined to grow into the busiest section of DCI. So, in 2000, I became a formal one-person, official Computer Crime Unit (CCU). The value that IACIS could provide to a guy like me was abundantly self-evident, so I joined IACIS and jumped into all the training it offered and strove to achieve my CFCE.
Business was brisk at the CCU, largely because of the crimes against children that the digital age fostered. I was a charter member of the Montana ICAC Task Force, which consisted of the finest group of federal/state/local law enforcement officers and prosecutors on the face of the earth. Workwise, our ICAC work was the crown jewel of my career. We undertook numerous cases, including ones that brought defendants from across the country and Europe to justice, all within Montana. I still maintain my bonds with my former ICAC teammates.
I credit IACIS for being the foundation of my professional career in forensics and digital crime investigation. I have never worked with such a selfless group of professionals who gave tirelessly of their time and talent. I cannot say enough about the value of the IACIS listserv. I would say that my volunteerism focused on training. I did quite a bit of work on applying virtual machines to forensics and shared that information on my former web site, JustAskWeg.com, which I archived to IACIS a number of years ago. I strove to be active on the listserv and found that there was as much value in providing help as receiving it. Often, I didn't know the answer when a member posed a question; however, researching the solution provided us both with a little more knowledge.
I retired reluctantly at age 66, and continued to pursue my love of hiking, snow shoeing, and running in Montana. Unfortunately, as the years progressed, so did my ability to brave the cold and snow, so I decided to "act my age." I moved to Las Vegas, NV, two years ago where I live nearby by daughter, Kristen, her husband, and my two grandkids. Kristen graduated from UNLV with a degree in Criminal Justice. And guess what? She works for Clark County as a juvenile forensic interviewer and is a proud member of the Clark County ICAC. Nothing in my life has made me as proud as I am of her!