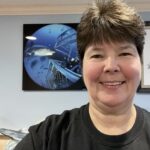 IACIS history
Served as Peer Review Coach, Peer Review Regional Manager and Peer Review Division Administrator
Served on Research and Development Board

Co-author "Windows Prefetch Cache:  A Guide for Computer Forensic Examiners"

Served on Recertification Committee
Served as Assistant Chair and Chair of Advanced Windows Forensic Examiner course
Served on training staff for Basic Computer Forensic Examiner and Advanced Windows Forensic Examiner course in the US and Germany.
LE history
Investigator with the Illinois Secretary of State Police for 25 years with 14 years investigating computer crimes.  I was assigned to the Illinois Attorney General Computer Crimes Unit and then the Illinois State Police Computer Crimes Unit during my tenure.
IACIS comments
IACIS is an incredible volunteer run organization that offers a wide variety of services to both Law Enforcement and professional computer forensic and cybersecurity agents.  I had the privilege of being involved in many aspects of the organization and have made many friends and colleagues that I am still in contact with today.
Where are you now?
Retired and working with my three Belgian Malinois dogs.  I also enjoy photography, gardening, snow skiing and cage diving with Great White Sharks.