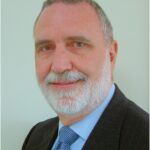 IACIS History
Joined in 1992 and obtained and held CFCE for more than 20 years.  Served on the Board of Directors from 2003 – 2013 as Secretary and Ethics Chair.
LE History
U.S. Border Patrol 1971 – 1973, Arizona.  INS Special Agent Miami, Florida and Washington D.C. 1973 – 1977.  DOJ Office of Special Investigations Agent 1977 – 1980.  Departments of Education, Veterans Administration, Environmental Protection Agency and Department of State Inspectors General 1980 – 1997.  Retired as State Department Assistant Deputy Inspector General for Investigations.
Related LE History
Contract CIA Background Investigator for OmniSec, 1997.  Assistant Director, National White Collar Crime Center, 1997 – 2005.  Head of High Tech Training, British Police College, England, 2005 – 2008.  Operations Manager, New Zealand Police Cybercrime Lab, New Zealand, 2008 – 2011.  Director of Digital Forensics, Credence Corporation; Instructor DoD Cyber Crime Center, 2011 – 2013.  Associate Professor, Digital Forensics and Digital Forensics Lab Management Master's Programs, Champlain College, 2013 – 2015.  Director of Cybercrime Training, Advanced German Technology, UAE and Saudi Arabia, 2016. Principal Cyber Engineer, Raytheon Corporation, US, Ireland and Jordan, 2016 – 2017
IACIS comments
I treasure my many years of association with IACIS and the many friends and colleagues from those days.  My ten years of service on the Board saw significant advancement and growth in the organization as well as a few turbulent times, which I helped successfully navigate.
Current Activities
Fully retired from cyber activities in 2017 and am now self employed as a scale model boat and ship restoration/repair expert in North Carolina.  I am the proud grandfather of a granddaughter and grandson.  My contact information can be found on my website:  www.bcrane.com