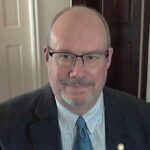 IACIS History
During my 26 years as a member of IACIS, I have served in many capacities but primarily in training and certification. I attended IACIS for the first time in 1996 and obtained my CFCE in 1999. I have been on the IACIS staff as a BCFE row coach, was the chair of the "Internet Forensic Examiner" course and served as the training manager for all specialized courses. I was the chair of the Accreditation committee and served as IACIS's representative to the Forensic Specialties Accreditation Board (FSAB)
Most recently I was the chair of the "Managing a Digital Forensics Lab" course, and I continue to serve in the peer review process.
LE History
After college, I was commissioned as an officer in the United States Marine Corps and served on active duty for four years. I left the military and became a police officer in Tulsa, Oklahoma. I then joined the Oklahoma State Bureau of Investigation (OSBI) as a Special Agent. I investigated a wide variety of crimes from homicide to public corruption. After attending IACIS I was assigned to perform forensic examinations of digital evidence and a couple of years later was promoted to supervise the state Computer Crime Unit and Digital Forensics Lab. I retired from the OSBI after 20+ years of service.
IACIS Comments
I truly believe IACIS to be the best preparation for digital forensics examiners. The curriculum and training staff are of the highest quality and provide the foundational knowledge that is the building block for professional digital forensics examiners. The CFCE is currently the only digital forensics certification that is accredited.
Most of all, the IACIS members are among the finest people I have ever met. I have made so many friends from all over the world and they all come together from these diverse backgrounds to put on some of the very best training in the world.
I am so very proud to have been made a Lifetime Member of IACIS, but I am not done contributing to this organization in whatever way I may be needed.
Where are you now
I am currently a Professor at the University of Central Oklahoma Forensic Science Institute where I am the Administrator of the Digital Evidence and Cyber Security Program. In 2012 I was selected as a Fulbright Scholar in Information Technology/Digital Forensics. My research interests include the application of technology in law enforcement, digital forensics, computer crime, and law enforcement education and training.
Oh…I also play my guitar(s) and a little golf when I can.